Three ways to support small businesses this Christmas and a look at my stockists!
---
Three ways to support small businesses this Christmas and a look at my stockists!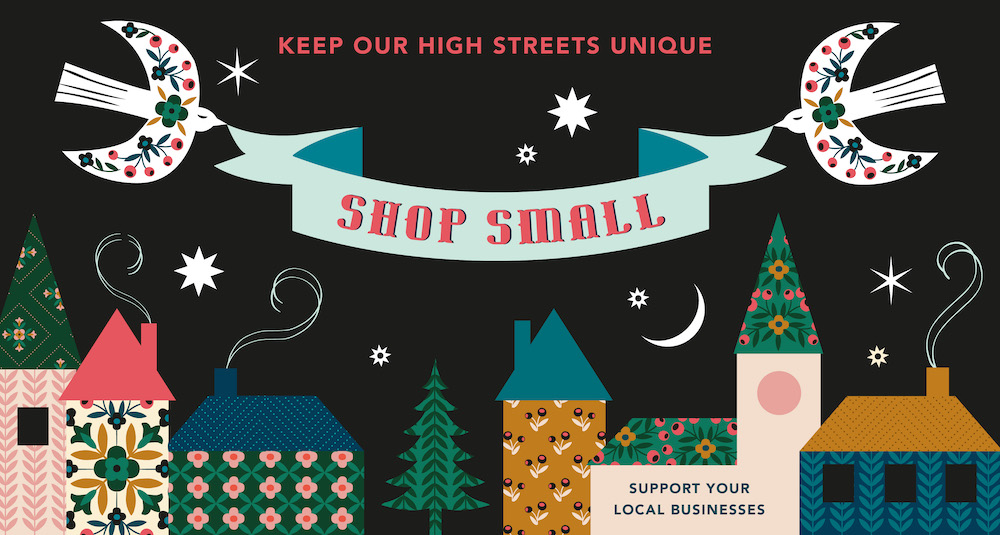 No matter how you feel about Christmas (and what the accepted date is that we can all start talking about it!) it is a brilliant opportunity to support small businesses and find unique gifts to give to our loved ones.
Shopping small at Christmas not only helps independent businesses but it feels good for us too! The gifts you can get are unique, well thought out and high quality. The products are designed and made with real passion. It always feels like so much thought has gone into a Christmas present when it isn't your bog standard department store gift set.
I am always so inspired and excited to see my fellow designers and makers share their beautiful work and even more excited when I see their work in the real world. I'll be sharing some brilliant independent shops further down in this post that sell a whole range of independent artists products. I still get a total buzz when friends tell me they saw my work in a shop or send me photos of my products they've spotted when they've been out shopping!
Here are some very good (in my opinion) reasons to shop small for 2022:
Buying from small and local stores helps the economy
It allows us to shop in a more eco conscious way, with a lot of small shops using recyclable materials and packaging
Being more thoughtful with our purchases means the gifts are treasured
It helps us all to celebrate creativity
But how can we go about this?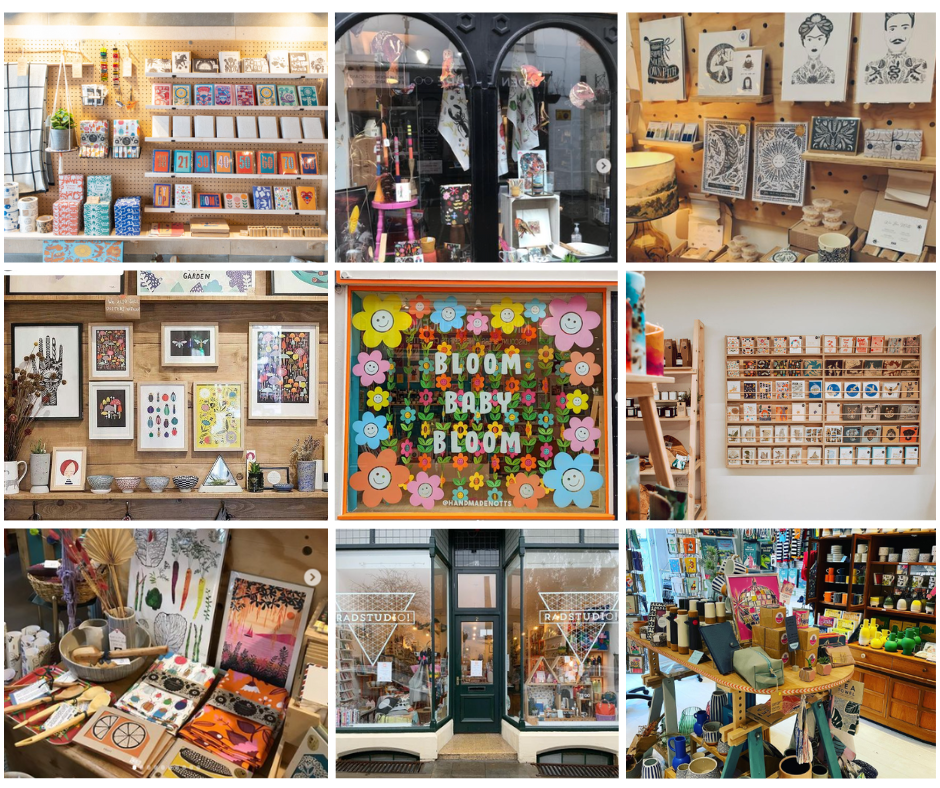 Here are three ways you can support small businesses this Christmas:
Buy presents from independent shops, online or in person.
No matter what type of gift you have in mind, it's very likely that an artist or maker will have just the thing for you. Find shops by researching on platforms like Etsy or Not On The High Street, visit local Christmas fairs and markets and find some independent bricks & mortar shops near you on Google. (See below for some stockists who sell my work alongside other designers)
Think about wrapping up those lovely gifts
Not only can you get quirky and exciting Christmas gifts and stocking fillers from small shops but you can also get your Christmas accessories there too! Get your wrapping paper, ribbons, tags etc from an independent maker and give your loved ones a beautiful experience from start to finish.
Share the love!
I appreciate that we can't all afford to buy lots of handmade things at Christmas. So, as always, one of the lovely ways you can support small businesses is sharing their work. Tell your friends, your family and your social media followers whose work you are loving right now. Like and comment on people's posts, forward their emails to people who may be interested, no matter how small it all helps!
Shopping small also means we can buy more thoughtfully and less things that we don't actually need. We've all been guilty of buying someone something that they didn't really want, just for the sake of it. What if we changed it up and instead bought LESS, but at the same time putting in the effort and purchasing something that they will treasure.
I thought I would take this opportunity to share some of my own stockists - shops around the world that stock MaggieMagoo Designs alongside a whole range of other designers, makers, illustrators and artists. These shops champion small businesses and indie makers and would be a fantastic starting point for your Christmas shopping. Whether it is online or you are lucky enough to be local to them!
I am so grateful to have my work stocked both in the UK and internationally and I want to say a huge thank you to everyone who has stocked my work, especially over the last year.

United Kingdom
North Yorkshire
Masham Gallery, Masham, N. Yorks
Saltbox Gallery, Helmsley, N. Yorks
West Yorkshire
Rad Studio, Saltaire, W. Yorks
Craft House, Bingley, W. Yorks
Spirals Fairtrade, Hebden Bridge
The Yorkshire Gallery, Halifax
Curated Makers – Trinity Centre, Leeds

South Yorkshire
Cumbria
North East
Replenish By The Bay, Whitley Bay
North West
South East England

Midlands
Framework Knitters Museum, Nottingham
South West
London
Curated Makers, Battersea Power Station, London

SCOTLAND
Fairtrade Winds / Calluna Ethical Living, Stirling
WALES
SPAIN

UNITED STATES OF AMERICA
Lincoln General Store, Lincoln, VT
Third Street Books, McMinnville, OR
Flyleaf Books, Chapel Hill, NC
Sprouts Children's Boutique, Whitefish, MT
Changing Hands Bookstore, Tempe, AZ
KD Floral & Gardens, Bemidji, MN
Little Craft Place, Spring, TX
Hello Art Hatchery, Stoughton, WI
Forest Floor Studios, Eugene, OR
Bookbug - An Independent Bookstore for All Ages, Kalamazoo, MI
Parnassus Books, Nashville, TN
Country Store & Gardens, Vashon, WA
Hi-Voltage Records, Tacoma, Wa
Artifacts Gallery, Athens Township, OH
Zandbroz Variety, Sioux Falls, SD
Gulley Greenhouse and Garden Center, Fort Collins, CO
Freshie & Zero Studio Shop, Nashville, TN
Paisley Boutique Kenai Alaska, Kenai, AK
Ohori's Coffee Roasters, Pen Rd Location, Santa Fe, NM
Hidden Hollow Garden ART, New Holstein, WI
Canada
Here Nor There, Lunenburg, Canada
Online
Give a Damn Gift, High Ackworth, UK